2018 is Finally Almost Over!
I have to admit that it's been a rough year. I've watched the US become a political trash fire. Loads of things ended up far more costly than we'd hoped in our lovely plans on paper (and almost ended up total disasters). Through the whole emotional rollercoaster it's been a net positive for me.
Wonderful things that happened this past year
My new job!
It wasn't easy to decide to leave my role at Code School/Pluralsight as a developer and devops engineer. However, how can you pass up a role with the Wikimedia Foundation?!? At least that's how I thought of it. It kind of fulfills a dream since I was a kid to make a living helping to spread, preserve and expand human knowledge. Working with the Cloud Services Team is great, and I feel like I'm really doing something Good For The World.
The Skoolie!
I spent nearly three years living in a 6x12 cargo trailer. This got us by, but there's really no way to make 70 square feet a reasonable and "nice" place to live unless you live alone, have endless resources or the world's cleverest carpentry skills. I have none of those. While my amazing wife was able to set things up really well, and I rigged up solar power and all the basics, we absolutely had to do something better. The thing is that while the worst debt was fixed by living on the road as cheaply as humanly possible, we still weren't in a great situation yet.
Our solution was to save up money from every source I could imagine, buy an old school bus (after loads of research on how to choose and price an old diesel) and build it into a home. The trailer became our daughter's room.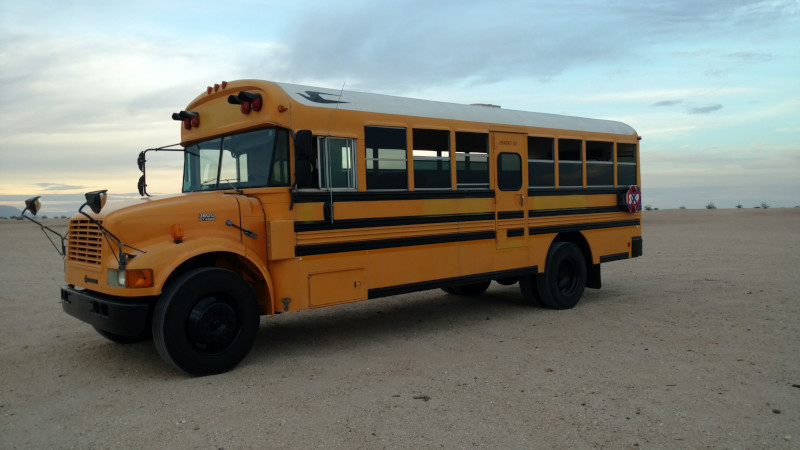 This went…poorly. The money we saved was eaten by a sudden catastrophic engine problem that would not have been foreseeable without taking it apart. That's fixed, and our Navistar DT466E now runs like new. On the other hand, that was the build budget that paid for the repairs.
A gofundme, a lot of scraping and some side-work later, we were able to get a bunch of plywood, solar panels and such. Then the true hell of 2018 started for us: the build.
You see building out a school bus into a house requires a lot fo things, often including replacing the floor boards, removing seats, building new furniture, removing wiring and signals that relate to the former life of the school bus, etc. People often take years to accomplish this. We did it in just shy of two grueling months. I can't say I remember all of it. My wife worked from sun up to sun down, and I worked on it whenever I wasn't doing my day job. This was all under the constant threat of a forest fire burning through with no notice because you don't get an evacuation notice when you are a nomad in some clearing that nobody even knows is there.
Well, we moved in. The trailer is now a wonderful bedroom for our daughter with a tool closet (and independent power supply). It's amazing.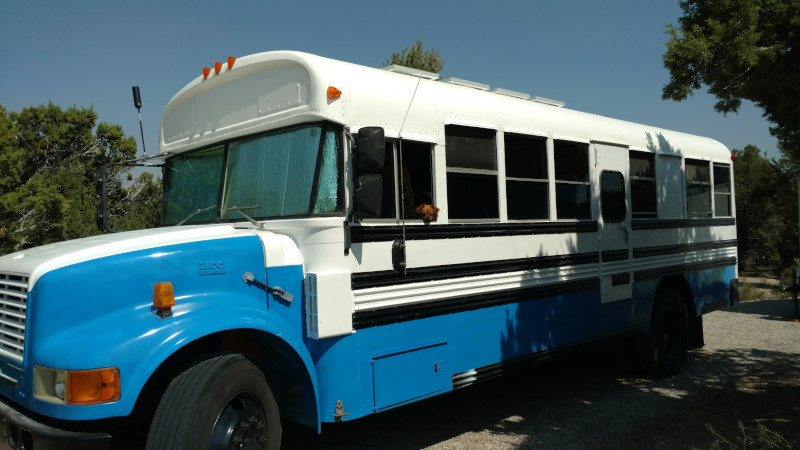 So we are still on the road, living as nomads so there's no rent or utilities to pay, but we now live with much greater dignity and comfort.
Our New Teapot!
So for the years we lived in a cargo trailer, it was not possible to have a decent teapot. We had to deal with stainless steel mugs and tea bags for our precious brew. Well, now that my wife built a wonderful, road-worthy pantry in the bus, we have a real, china teapot once again. It's just a simple, white affair, but being able to enjoy proper tea without wasting all that tea bag paper and stuff is just great.